Jasper, GA
New Life Apostolic U.P.C.
New Life Apostolic U.P.C.
Come visit a Pentecostal church that believes miracles still happen!
Jasper, GA
Who We Are
A Pentecostal church that believes Christ died for all and still changes lives today! The ministry of the church is to reach the world.
About Us
Our Services
Leadership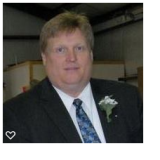 Harold Violet
Pastor
I was born on December 15, 1966 in the small town of Medina, OH. Parents are Shelia Hollis and Harold Violet Sr. My mother is living and doing well as a member of our church. My father died of massive heart attack in 2013. I married Melissa Ray on March 17, 1989. A few years later we bore two boys, Dustin Violet our first born, was born on May 21, 1991 and our second son Daniel "Scott" Violet born March 15, 1996. Both of our boys graduated from Pickens High School. We have lived in the Pickens county area most of our 30 years of marriage. We helped with the Lighthouse Church of Cedartown for little over a year but felt God pulling us back to the Jasper area. Through some of life's hardships and journeys, I embarked on furthering my education through Kennesaw State University and graduated in 2015 with a master's degree in Social Work. I am currently employed with the State of Georgia in the Department of Community Supervision, as a Behavioral Health Counselor. I currently pastor New Life Apostolic, UPCI and feel this is my life's calling. I am ordained through the United Pentecostal Church International and remain active in the doctrine and beliefs that the UPCI upholds.