Chino, CA
New Community Brethren in Christ
New Community Brethren in Christ
"A place of Grace."
Chino, CA
Who We Are
We are a small church, that is made up of a diverse and wonderful group of people! We love God, and one another, and would love to have you be our guest!
We are blessed by outstanding talent in our worship ministry, and experienced and credentialed teachers in our Children's Ministry.
Our youth leaders are Elizabeth and Miles Bennett, who are recent college grads from APU, and love and value young people!
In an anonymous world, New Community calls you by name.
About Us
Our Services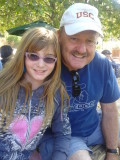 Mike Shipman
Pastor Mike began his ministry as youth pastor in Chino. He also coached JV football at Don Lugo HS for 7 years. Pastor Mike served at four churches over a 25 year period as a youth pastor, and has been a lead pastor for the last 11 years. He loves his family, his Golden Retriever Lily, and his wonderful church...most importantly he loves God, and thanks Him for all of the blessings that he has received!