Acton, MA
Mt Calvary Lutheran Church
Mt Calvary Lutheran Church
Loving God. Loving Others. Making Disciples of Jesus.
Acton, MA
Who We Are
Hi. We're Mt. Calvary. We're glad you found us.

We're a community where you can experience God's love, ask questions, learn from the Bible, meet new friends and make a difference.

During COVID-19, Mt. Calvary outdoor worship services feature music, readings from the Bible, prayer, and a message. Outdoor worship is about 50 minutes on Sundays at 10:00 AM starting Sunday, May 2, 2021. Join us by reserving a seat with Save-A-Seat on our website.
Our music combines the strength of traditional hymns with the warmth of contemporary songs. You will hear a variety of Christian songs on Sundays.
Our messages are 20-30 minutes focused on the good news of Jesus with practical applications for life. We teach directly from the Bible and in a way you can understand.
We celebrate the Lord's Supper weekly and baptisms throughout the year.
Our community of faith is beautifully diverse with people from all around the world.
Starting June 6th, preschoolers and kindergarteners are invited to join Kids Connection for 25 minutes of kids teachings and activities during the message on Sundays.
Our environment encourages community, increases faith, and builds relationships through Growth Groups for all ages and stages of life.
As government guidelines develop, we hope to resume in-person small groups and in-person children and youth groups this fall.
We recognize that every believer is a minister with a ministry. God has made you to make a difference in people's lives.
The Mt. Calvary Community Supper has served more than 42,000 meals over the past nine years with nearly 100 volunteers.
Compassionate pastoral counseling, marriage ministry and holistic care is provided to dozens of families and individuals every year in greater Acton. By God's grace, we give away tens of thousands of dollars to help our community every year.
We love people in New England and around the world. We repair homes and rebuild lives in the poorest county of Maine every summer. We partner with other churches and invest thousands of dollars in starting new Christian schools overseas. Some people join us for international mission trips for literacy, medicine, discipleship, and human care.
There are many opportunities to serve and make a difference.
We welcome your new ideas. We believe you can make an impact!
About Us
Our Services
Leadership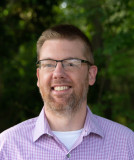 Eric Sahlberg
Pastor