Who We Are
OUR MISSION: TO BECOME A HIGH IMPACT CHURCH BRINGING THE MESSAGE OF JESUS CHRIST TO THE ENTIRE CARSON VALLEY
OUR EMPHASIS
Our increasingly secular culture would have us believe that God does not actually exist, or that God is a mysterious and unknowable being, that God is a nebulous aura or impersonal force, or that we are ourselves gods. But we understand from recorded scripture that God is real and that He desires a meaningful relationship with each one of us…and that's where His Son, Jesus, comes into the picture.
Jesus Christ is documented to be the most significant person in human history. More songs have been sung about Him, more artwork has been created about Him, more books have been written about Him than any other person from all time. Even our calendars hinge on his life, dividing time both before Him (BC) and after Him (AD).
Jesus was unique because He was a man who both claimed and then demonstrated himself to be God. The fact Jesus was both human (man) and divine (God) enabled him to be like everyone else but different from everyone else. Different from everyone else because He never actually sinned and that sinlessness qualified him to become the Savior. Jesus then voluntarily sacrificed Himself on the cross for the sins of humankind meaning that God the Father punished His son, Jesus for our sins so we would not have to be punished for those sins ourselves. Jesus died, was buried and was then resurrected from the dead and through trusting Jesus for our salvation we can have immediate forgiveness from past, present and even future sins and experience a better quality of life than is possible to ever have apart from Him.
Because of that exciting truth everything we do at Shadow Mountain Church is Jesus-centric. If it's a Sunday morning worship service, a mid week small group, a community service project, a wedding ceremony or a children's vacation Bible school, etc. we'd still like to think it's all about Jesus Christ.
Do visit us sometime at Shadow Mountain and learn more about this man called Jesus, who is changing people from the inside out!
OUR BELIEFS
WHAT WE BELIEVE: OUR STATEMENT OF FAITH
The authority of Scripture
The sixty-six books of the Old and New Testaments are the verbally inspired Word of God, they are without error in the original writings, and they are the complete and final revelation of God. (Matthew 5:18; John 17:17; II Timothy 3:16-17; II Peter 1:19-21; Revelation 22:18-19)
The triune nature of God
There is only one God, eternally existing in three persons: Father, Son, and Holy Spirit, Who are co-equal in their essential nature, attributes, and perfection; and each of Whom is to be honored and worshiped as God. (Genesis 1:1; Deuteronomy 6:4; Psalm 18:30-31, 147:5; Matthew 28:19; Mark 12:29; Luke 3:22; John 4:24, 5:23, 10:30, 14:9; Acts 5:3-4; II Corinthians 13:14; Hebrews 1:1-3)
The person of Jesus Christ
Jesus Christ is God the Son, the promised Messiah, conceived in the flesh by the Holy Spirit, born of a virgin, true God and true man, without sin, and the only mediator between God and Man. (Isaiah 7:14, 9:6-7; Matthew 1:18-25; Mark 14:61-62; John 1:1-3, 14, 29, 5:18, 8:58, 10:30; II Corinthians 5:21; Philippians 2:5-11; Colossians 2:9; I Timothy 2:5; Hebrews 1:2-9, 2:14-15; I John 5:20)
The work of Jesus Christ
Jesus Christ, through His death on the cross, paid for all sin, completely satisfied the righteous wrath of God against sin, and provided redemption and forgiveness for all who believe. After His death, Jesus Christ arose bodily from the dead, was seen by many during a period of forty days, and then ascended into heaven where He is seated at the right hand of God as our Advocate and High Priest, from where He will someday return to establish His Kingdom on earth. (Isaiah 53:5-6; Luke 24:36-43; John 1:18, 3:16, 20:25-28; Acts 1:6-11; Romans 3:21-26; I Corinthians 15:3-8, 20-23; Galatians 3:13; Colossians 1:13-14; I Thessalonians 4:13-18; Titus 2:13; I Peter 1:18-19, 2:24; I John 2:1-2; Revelation 20:6)
The ministry of the Holy Spirit
The Holy Spirit is that person of the triune Godhead who convicts men of sin, causes spiritual birth, indwells, seals, sanctifies, guides, equips, teaches, and fills the believer, thus enabling him to walk in obedience to God and His Word. (John 3:5, 14:16-17, 26, 15:26-27, 16:7-15; Acts 1:8, 5:3-4; Romans 8:9, 14; I Corinthians 2:10-11, 6:11, 19, 12:4-13; II Corinthians 3:18; Galatians 5:16-18, 22-23; Ephesians 1:13-14, 4:30, 5:18-21)
The creation and fall of Man
Man was created by God in His own image and is not the product of macro evolution; he fell into sin through personal disobedience to the revealed will of God; and as a result, all mankind is sinful in nature and practice, is unable to save himself, and faces eternal separation from God. (Genesis 1:26-28, 2:7, 18-24, 3:1-24, 9:6; Matthew 19:4; Mark 7:21-23; John 8:42-44; Romans 1:18, 3:10, 23, 5:1; Ephesians 2:1-3)
The salvation of Man
Eternal salvation from sin, death and hell is the free gift of God's grace, and is based solely upon man's personal faith and belief in Jesus Christ. He voluntarily died as a substitutionary sacrifice for our sins and arose bodily from the dead, thus guaranteeing our own resurrection to eternal life. This salvation is not received by, nor based on, any sacrament, merit, or good work on our part. This one who receives Christ's salvation is eternally secure. (John 1:11-13, 3:16, 5:24, 10:28-30, 14:6; Acts 16:31; Romans 3:23-26, 5:8, 6:23, 10:9-10; Ephesians 2:8-10; Titus 3:5; Hebrews 7:24-25; I Peter 1:18-19; I John 5:11-13)
The destiny of Man
At death, the redeemed pass immediately into the presence of Christ and there remain in joyful fellowship until their bodily resurrection unto life. The unsaved at death descend immediately into hell where they are kept under punishment until their bodily resurrection resulting in damnation. (Daniel 12:2; Luke 16:22-23, 23:43; II Corinthians 5:8; Philippians 3:10, 11, 21; Revelation 20:11-15)
The nature and organization of the Church
All who have placed their faith in Christ are united together immediately by the Holy Spirit in one spiritual body, the church, of which Christ is the Head. In addition, the members of this one spiritual body are directed to associate themselves together in local churches. (Matthew 16:18; Acts 2:46-47; I Corinthians 12:13; Ephesians 1:22-23; Colossians 1:18; Hebrews 10:25)
These local independent churches have been given the needed authority and scriptural guidelines for administering that order, discipline, and worship which Christ, the sovereign head, had appointed. The biblically designed officers serving under Christ and over the church are pastors, elders and deacons. (Acts 6:1-6; I Corinthians 14:40; Ephesians 4:11-12; I Timothy 3:1-13; Titus 1:5-9; I Peter 5:1-5)
The ordinances of the Church
Two ordinances have been committed to the local church: baptism and communion. Christian baptism is the immersion of a believer in water in the name of the triune God. This ordinance, being a command of Christ, is recognized as a prerequisite for membership in the local church. Likewise, communion was instituted by Christ for commemoration of His atoning death. These two ordinances are to be observed until the return of the Lord Jesus Christ. (Matthew 28:16-20; Luke 22:19-20; Acts 2:41, 10:47-48; I Corinthians 11:23-29)
About Us
Our Services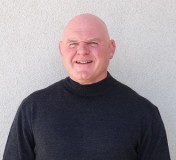 Larry Webb
Senior Pastor
Hi, my name is Larry Webb and I pastor some pretty amazing people at Shadow Mountain Church in Minden-Gardnerville, Nevada. Please take a moment to browse through our website and see that wherever you are in this journey called life, we have something to help you better connect to God and to other people just like yourself. If you should have any questions please feel free to contact us at our email address
[email protected]
or call the office at (775) 782-5513. If our website seems inviting please consider attending one of our services. I would consider it an absolute privilege to meet you in person so do visit us and consider making your family part of ours. God bless!