San Diego, CA
Mary Magdalene the Apostle Catholic Community
Mary Magdalene the Apostle Catholic Community
Progressive. Inclusive. Affirming. A new way to be catholic.
San Diego, CA
Who We Are
Mary Magdalene Apostle Catholic Community (MMACC) is a community of progressive Catholics who are committed to the reform and renewal of the church. We strive to live the values of compassion, peace, and social justice as taught by Jesus. We believe in a church that celebrates the full equality of all persons - practicing radical inclusivity in our ministry, worship, and language. We support women's ordination, optional celibacy for all priests, and a discipleship of equals where all are truly welcome.
We welcome you to a church that recognizes and fosters the dignity and ministry of all in the church.
We invite your individual spirituality and look forward to sharing our spirituality with you.
We invite you as you are, with your unique gifts and talents.
We invite you to celebrate our inclusive liturgies.
We invite you into a discipleship of equals.
We welcome you as a gift.
Give us an hour.
MMACC may be what you're looking for.
Sunday Mass - 5:00pm
held at Gethsemane Lutheran Church
2696 Melbourne Drive | San Diego, CA 92123
About Us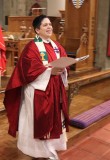 Kori Pacyniak
Pastor
Kori joined the pastoral team of Mary Magdalene Apostle Catholic Community (MMACC) in January of 2017, coming from a background in academia and non-profit work that focused on queer and trans theology, work with veterans and survivors of trauma, and church communications. Kori's ministry focuses on those at the margins of church and society, particularly queer and trans communities. Kori holds a Master of Divinity (MDiv) from Harvard Divinity School with a concentration in queer theology and a Master of Sacred Theology (STM) from Boston University School of Theology with a concentration in Trauma and Theology with work that focused on LGBTQ veterans and service members. Kori has a passion for traveling and has studied in Rome, Poland, and Brazil and has participated in several social justice trips and pilgrimages to Israel and Palestine. Kori previously served as parish intern at St. Luke's and St. Margaret's in Boston, assistant chaplain at Suffolk University, scholar in residence at the Religious Institute and is a member of the steering committee for TransEpiscopal. Kori is pursuing ordination through Roman Catholic Woman Priests (RCWP) and was ordained a deacon in June of 2019 and a priest in February of 2020, becoming the first transgender and non-binary person ordained through RCWP. Kori is also pursuing a PhD in Religious Studies at the University of California at Riverside, focusing on Queer and Trans Studies in Religion.