Lord of the Lake Lutheran Church
Who We Are
We invite you to join us at 10:30 a.m. each Sunday in-person or online. We are a small church located in the Ozark Mountains of Arkansas bordering Missouri on Bull Shoals Lake. Our city is the second largest in Boone County with a population of 802. We are friendly and open to all who wish to worship in a liturgical style church. We believe in the power of prayer and the Trinity. We have an after-school program on Thursdays for K-5 students. The local school in Lead Hill provides transportation to the program.
---
---
Our Services
Service Times
Sunday
10:30am

-

Morning Worship
What to Expect
---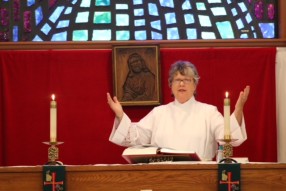 Dr. Shari L. Marshall
Minister
I came to the Lord of the Lake Lutheran Church in the fall of 2014 when Pastor Marge Doyle accepted a calling to a new church on Alabama. Because I am not an ordained minister of the Lutheran Church, I received a license through the Bishop of the ELCA to preach and preside and am a Synodically Authorized Minister of the Lutheran Church ELCA. I have served the Lord throughout my life from Sunday School to Choir Director to Community Service member. I hold degrees in English/Theater (BS), Speech Communication (MA), and a doctorate in the Learning Process with and administrative certification (Ed.D.). I have served as a teacher, principal and superintendent of schools before retiring in 2007. Before accepting the ministry of this church, I was Mayor of Diamond City, Arkansas. We are a small but scrappy church who are struggling through the pandemic like many other churches. Our services are broadcast on the Lord of the Lake Facebook page. You may give through our FaithStreet web page. God bless.
---