Lord of Life Lutheran Church
Lord of Life Lutheran Church
Who We Are
Originally began as an outreach to those stationed at Eielson AFB, the congregation has grown into a community church with many active and retired military. We do our best to be a place of life and hope for the community, welcoming to families and people from all different backgrounds.
We are part of the ELCA, give Communion to everyone who believes the meal is for them, hand out homemade jam to first-time guests, like to laugh and sing and explore together what living with faith is like in our world.
If nothing else, Lord of Life is a great place to hear a message of hope and forgiveness, life and strength for your lives. Join us Sundays at 10:30 in the morning.
About Us
Our Services
Leadership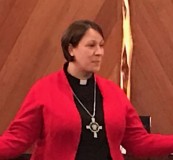 Amanda Kempthorne
Pastor
Amanda joined Lord of Life's ministry as Pastor in 2009, leaving the familiarity of the west suburbs of Minneapolis/St. Paul, Minnesota with her husband, Jason. They have built a life together, bringing 2 boys into the joy, service, and adventure of life in Alaska. Amanda's work is to join the Spirit of God to nurture spiritual growth within people. Whether that's teaching the basics of Christian faith, planning and leading worship that engages head and heart, speaking God's grace in our troubles, building community, or just listening, it's all possible because God's already doing that work.