Long Memorial United Methodist (LMUM Church)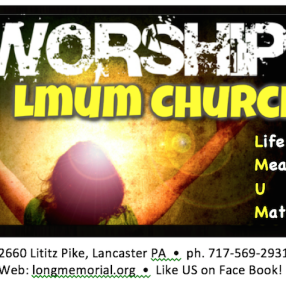 Who We Are
LMUM Church where Life Means U Matter!
Preaching is relevant, connected and powerful!
Worship is intergenerational, kid-friendly, and joyful.
We believe we are 'better together' with praise, spiritual songs, hymns, choirs, bell choir, quartets, contemporary and modern music all mixed in because we just love to rock out
in the LORD!
---
---
Our Services
Service Times
Sunday
09:00am

-

Connection Cafe - Come meet the Pastor and join us for a lite breakfast and coffee

09:30am

-

ADULT, YOUTH, & CHILDREN SUNDAY SCHOOL

10:30am

-

Lives are changed every day at LMUM Church! where Life Means U Matter! U matter to God. U matter to us. And, you matter to people who need you to fulfill your destiny! We are Mission-minded and Christ-Centered. We experience God in Worship. We are empowered by the Holy Spirit to live and witness for Jesus Christ. We are on a journey seeking faith, hope and love. At LMUM Church, it's the journey that matters. Women & Men are empowered in ministry & leadership. OUR MISSION: Reach Up, Reach In, Reach Out in LOVE, because Life Means U Matter at LMUM Church
---
Sharon Barley
Pastor
Pastor Sharon has served 6 churches in the SW, Central, and East Districts in the United Methodist Conference. She is an energetic, positive, radically committed Christ follower. With visionary leadership and equipping and unleashing lay ministry, churches thrive under her pastoral leadership. She is also a consultant to help other churches move from being stuck or in conflict to thriving and vital congregations. Dr. Barley is an exceptional clergy coach and spiritual director who has helped multitudes of clergy turn their churches and ministries around. A real change leader and caring confident.
---