Philadelphia, PA
Lighthouse Independent Baptist Church
Lighthouse Independent Baptist Church
South Philly's International Lighthouse!
Philadelphia, PA
Who We Are
Lighthouse Baptist Church is an Independent, Fundamental, Baptist Church located in the inner-city of Philadelphia, Pennsylvania. We love the Lord Jesus Christ and the people of Philadelphia. Our hearts' desire is to tell people that Jesus saves according to the Word of God. We believe and stand on the King James Bible from cover to cover! We rejoice in the privilege of living in this great city and for the opportunity to tell all that Jesus saves! We thank you for stopping by our website and invite you to join us for any of our many church services if ever in the Philadelphia area! We'll see you at the Lighthouse!
About Us
Our Services
Leadership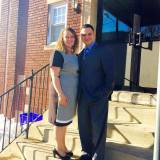 Christian Pennachietti, Sr.
Senior Pastor
Pastor Christian Pennachietti Sr. joins us at Lighthouse Independent Baptist Church, leading the church us for his first service on Sunday, February 7, 2016. He and his family come to us from their home church at Grace Baptist Church in the Bridesburg section of Philadelphia. A P.K. (Pastor's Kid), Pastor Pennachietti comes from a family of Christians who have dedicated themselves to serving our Lord Jesus Christ, beginning with his father Dominic Sr. His brother Dominic Jr. also pastors a church here in South Philadelphia.
I have not been there recently but was married there April 21,1999 I am trying to see if this is the original name? I thought it was Trinity church. I am trying to get a copy of my license. Thank you. My email is

[email protected]