Who We Are
LifeBridge is a rather unique church, with a strong emphasis on living lives of service out in our community and world. We seek to live out priorities that are very different than what you find in the world -- with lives marked by genuine worship, extreme generosity, and service to our fellow man. As a church, 50% of our offerings are given away, which has helped us establish a very outward focused, and impactful church. We would love to have you join us on this faith venture.
About Us
Our Services
Leadership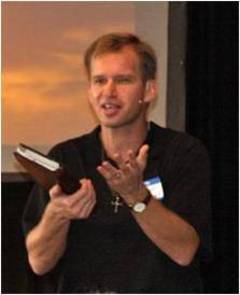 Michael Meissner
Pastor Michael Meissner led the group that launched LifeBridge in the Fall of 2008, and continues as the head pastor of the group. Prior to that, he served as pastor of churches in San Antonio and Colorado Springs. He has a huge mission heart and is loving the adventure of shaping a church from the ground up. Michael has been married to his wife, Julie, since 1995. They have been blessed with three children, with the oldest just beginning the teenage years. Michael has a seminary degree (Master of Divinity, 1996) from Concordia Seminary in St. Louis, MO. More importantly -- life, marriage, and fatherhood have been God's classroom to shape him into the pastor he is today.
We have been going to LifeBridge for almost a year & absolutely LOVE our church family. After moving to the area, it took us almost two years to find the right church home before we found LifeBridge. We had been to several churches we enjoyed, but we longed for more than a place that made us feel welcome, had good sermons & good programs, and had many of our same convictions. We longed for a church that was continually examining the Bible for how to BE the church with a large focus on serving others. From our first visit, we were pretty sure we had found our new church home, & within a few days of our second visit, after having dinner with Pastor Michael, Julie & their kids, we knew we were part of LifeBridge... & luckily even after getting to know us better, they still love & accept us! :) We did initially have concerns about the Lutheran thing, since we were only familiar with Baptist & non-denominational churches, but those concerns were quickly put to rest, as we discovered that LifeBridge is made up of members from many denominational backgrounds who are continually examining the Bible as we talk & walk through tough questions of what it means to be a follower of Jesus & to be the church. Admittedly, we don't have all the answers, but together we seek to know Jesus better and to love others.