Lancaster Valley View Church of the Nazarene
Lancaster Valley View Church of the Nazarene
Who We Are
Valley View Church of the Nazarene in Lancaster, California, is a church devoted to loving God and serving people. Come join us! Our English service begins at 9:30, and our Spanish service begins at 11:00.
About Us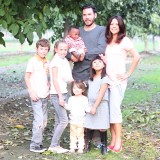 Gabe Martin
Pastor
If you join us for a Christmas or Easter service, you'll probably find Pastor Gabe in a suit. But the rest of the year, we're lucky to get a bowtie. Because Gabe isn't like most pastors. He's not about dressing up and pretending to be some sort of spiritual superstar. He's just as human as the rest of us. But he's also got a contagious love for God and a true gift when it comes to preaching. Be sure to introduce yourself when you come to visit. He'd love to tell you about his goats.
Love this church! Great preaching, great people!