Who We Are
Our congregation is made up of families of all ages who share together in a unique blend of Christian service.
We are a caring congregation committed to making church a fun, exciting, and a life-changing experience. We strongly believe in reaching out beyond ourselves to touch the heart of our community. Here you will find a warm welcoming family atmosphere, and a good opportunity to grow in your relationship with Christ and his church.
There are services for the whole family that include wonderful contemporary worship, a time of biblical teaching, and an opportunity to make a decision to follow Jesus Christ.
Most people at Journey Church dress casual. Some people will wear a suit while others will come wearing jeans. Don't feel like you have to go and buy a new outfit before you can come to church. Our main concern is not what is on the outside, but what God can do on the inside of a person. Our prayer is that you will come and find home here at Journey Church.
We would love for you to join us and become a partner in this journey we call LIFE!
About Us
Our Services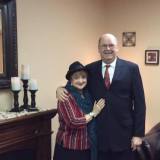 Larry Lund
Pastor
Journey Church is a loving, warm and caring church! Every week I have the pleasure to pastor such a wonderful group of families!