In His Grace Community Church
In His Grace Community Church
trinitarian, bible, fellowship, friendly, warm,
Kenockee, MI
Who We Are
In His Grace Community Church is a Trinitarian focused fellowship. We are very close as a church family and welcome new comers always! Those who visit immediately see the love of God in our regular attenders and feel right at home with us. The Bible is taught and used to teach our beliefs. Each Sunday we have refreshments after services. This is the time that we spend in fellowship and to get to know one another. Dress is casual - come as you are. The offering plate is not passed during services, we just place our offering in the box before we leave. See our website www.inhisgracecc.org and read about our beliefs, please visit!
About Us
Our Services
Leadership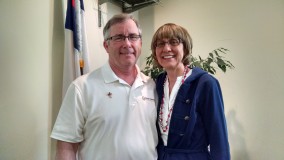 Grant Forsyth
Pastor
Grant is a Bi-Vocational Pastor. This means his income is from a traditional vocation and he also pastors the church. His training is through Ambassador College of Christian Ministry through the church's denomination which is Grace Communion International. No members or leadership of the congregation receives compensation - all donations go to the work of the church. Grant's wife Kathy assists in several ways including with Children's Ministry. Kathy is a retired school teacher and specializes in early child education. Our Church Elder is Jimmie and Kim Meade. Jim and Kim are formerly the pastor but are still very involved in congregation life and ministry.
Hi everyone! Our church home is a very friendly place, we have many friends here. We are always looking for new friends as we gather each week in worship and fellowship. Whenever new people come through our doors they are welcomed and before you know it we are just like old friends. That is one of the highlights here, along with learning from God's word the Bible. I love this church and all the people here! Grant.