Allendale, MI
Iglesia Alas de Aguila (Allendale)
Iglesia Alas de Aguila (Allendale)
Hispanic Church
Allendale, MI
Who We Are
We are a Spanish Speaking Church, our mission is to be transformed in the image of Jesus in every aspect of our lives, through the power of the gospel.
Our vision is to be a mature Hispanic Church that lives out its faith and transforms its community for the glory of God.
About Us
Leadership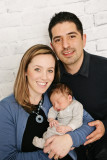 Enrique Cuevas
My wife Michelle and I moved to Allendale three and a half years ago. We have a son, Liam, and another on the way :) We love this community! A lot of very generous and loving people. "seek the peace and prosperity of the city to which I have carried you into exile. Pray to the Lord for it, because if it prospers, you too will prosper." Jeremiah 29:7. Our family motto is: "Blessed to be a blessing".