Hope Lutheran Church
Sharing the Sure Hope of Heaven!
Irmo, SC
Who We Are
OUR MISSION
The mission of Hope Lutheran church is to serve and glorify God by sharing the sure Hope of heaven with one another, the people of our community, and people throughout the world. This is a certain Hope brought to us by God through his perfect Word and Sacraments.
About Us
Leadership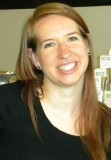 Tillie Colmery
Administrative Assistant
Tillie Bergmeier is the Administrative Assistant at Hope Lutheran Church. She was hired in June 2015 to assist with printing bulletins, answering phones, and other administrative duties.