Holy Family Traditional Catholic Church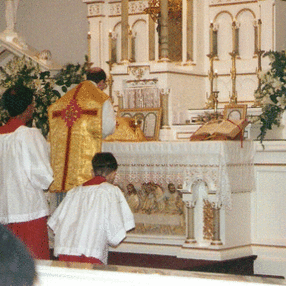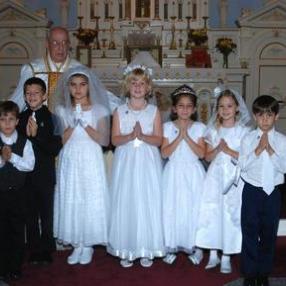 Who We Are
TRADITIONAL ROMAN CATHOLIC
Statement of Purpose
"When we enter the temples of the heretics, where there is nothing but a chair for preaching and a table for making a meal, we feel ourselves to be entering a profane hall and not the House of God."
---------------St. Robert Bellarmine
The Chapel of the Holy Family seeks to provide a valid liturgy and true sacraments for the benefit of those who through faith and good works, hope and labor for eternal salvation.
Holy Family is in union with Eternal Rome; countless popes, cardinals, bishops, priests and saints who loved, served, and died for the Holy Catholic Faith. It holds the Successor of Saint Peter to be the true Vicar of Christ on earth and head of the Universal Church.
This Chapel of the Holy Family rejects Modernism and will not serve the profane. It has no affiliation with the local ordinary.
Why attend Holy Family? The faithful attend because a crisis exists in the "Post Vatican II Church". They have removed the holy liturgy, tabernacles, altars, statues, icons, and sacred vessels and trashed them. In their place, they have given us scandal, universal salvation, the worship of man and a generic, modified 16th century Anglican, Protestant communion service which may be modified to suit the fancy of the "president of the assembly". It is because of these sacrilegious practices that this Chapel exists. Holy Family offers a space free of liturgical and doctrinal mischief; a safe haven for those who will not serve at a table for making a meal but who will have the Sacred Species, Body, Blood, Soul and Divinity in the House of God with proper disposition, for the hope of eternal salvation.
Valid priests ordained in the old rite or conditionally ordained in that rite teach, sanctify, and serve the religious needs of the faithful at Holy Family. A lay board of directors also serves.
All are welcome to this Chapel.
Visitors should understand, that only baptized Catholics in a state of grace who observe the fast, are properly prepared for the reception of Holy Communion.
---
---
The traditional Tridentine Latin Mass is beautiful. Full of reverence, joy, and love. I enjoy Mass here very much.

I have not yet visited, but I can't wait to.

We are Catholics we want to go back to church. I just want to ask if you have mass in English? According to your website the mass only in Latin. Please let us know. Our email:

[email protected]

thank you

My 90yr old Mother and I attended Mass this Sunday. We are new to the area and were thrilled to find your church. Walking in we knew we were in the wrong place. Cold, joyless and cult-like we were so disappointed in the unwelcoming feeling we experienced. We will not return.