Harrisville United Methodist Church
Harrisville United Methodist Church
Journey with us as we rediscover the path of faithful discipleship.
Harrisville, PA
Who We Are
At Harrisville United Methodist Church we are passionate about being the hands and feet of Jesus Christ here on Earth. Our calling is to play a very real part in transforming the whole world by making disciples of the Risen Christ. Through worship, outreach, mission, radical hospitality and service to our communities we seek to exemplify Jesus' instructions to "love one another as I have loved you."
About Us
Our Services
Leadership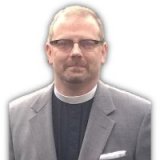 Jeffrey Canter
Born and raised in Western Pennsylvania, I have always identified with the Midwestern values of the region. I first felt called to ministry in my youth, but being unsure of what "faith" really meant, I ignored the impulse and built a secular life with my wife of more than 33 years and our three children, sporadically drifting away from active worship. Despite this, on at least two occasions after reaching adulthood I once again felt called to ministry, but believed myself too timid to respond. After a lengthy career in the hospitality, technology software & services and leadership training industries, I heard God's call once again. This time, however, I was spiritually and emotionally prepared to respond with a joyful "Here I am, Lord". After closing my business in 2012, I moved quickly to begin the process of transitioning to a life in ministry.