Who We Are
Rightly Dividing the Word of Truth, Precept Upon Precept.
The HRC doesn't have the bells and whistles like other BIG churches do, meaning we don't have a ministry for every little thing. So that's where YOU come in. Introducing the opportunity you've been praying for. You see, anyone can go to church and just sit down, but not everyone will come to church and make a difference. If you believe you are someone who can, and if you desire to be used by God in the body of Christ, then we're the right place for you.

We are actively praying that God brings people who truly want to roll up their sleeves and get busy doing His work on Earth. People with talents and the drive to develop and use them.

We're a small community of believers from all walks of life, some of us are moms, dads, musicians, artists, professionals, grandparents, and children; who all share a common thread in worshiping Jesus Christ! You're welcome to be part of this community.
---
---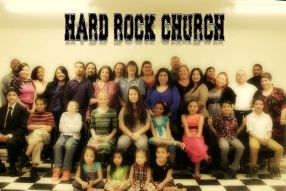 Roland Gloria
After serving in the music ministry for 12 years and at his home church for 10, Pastor Roland Gloria began pioneering the Hard Rock Church in San Antonio, TX. For more info on Pastor Roland go to the HRC website.
---