Halcyon Baptist Church
We exist to make disciples who Love God, Love One Another & Love All People
San Leandro, CA
Who We Are
We are a church on a journey toward God, a journey that begins and is centered on the person and work of Jesus Christ.
We have a strong history of Community Service that is defined by our food pantry ministry, Love East Bay and services that provide clothing, food and acts of love to the people of San Leandro. We have been nationally recognized, but seek only recognition that reflects on our Lord Jesus Christ. Spanish services are also offered by our sister church Iglesia Bautista Buenas Nuevas meeting at 3 PM Sundays.
For further information check out our website www.halcyonbaptist.org
About Us
Our Services
Leadership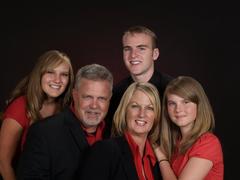 Tim Royal
Family is huge for Pastor Tim as is demonstrated by his deep love for his wife of 30 years, Janet Lee and their four children. This is also demonstrated by his commitment to his church family. His door and his heart are open to all who need him, and he strives to see that his values for spiritual family and community are the heart and soul of Halcyon Baptist Church. Tim Royal received his bachelor's degree from Simpson University and his Master of Divinity from Golden Gate Baptist Theological Seminary where he is currently working on his Doctor of Ministry. He has pastored for the last seventeen years. He is the recipient of the LifeWay Pastoral Leadership Award; Wright-Bramlett Christian Leadership Award and Who's Who in American Colleges and Universities. Pastor Tim has been Senior Pastor at Halcyon Baptist Church since January 2007. Pastor Tim is passionate about the sense of community at Halcyon which is reflected in our simple purpose statement which is: "Halcyon Baptist Church exists to raise up disciples who: Love God Love One Another Love All People" His life verse is (ask him about it sometime): Jeremiah 29:11 (NIV) "I know the plans I have for you,' declares the Lord, 'Plans to prosper you and not to harm you. Plans to give you a hope and a future."