Who We Are
We have two gatherings on Sunday mornings 9:00AM and 10:45AM. We also provide Children's Ministry for Nursery through 5th grade during both gatherings.
At GRACEVIEW we desire to be a part of God's process in making you and your family into better reflection of Jesus Christ.
Every Sunday is filled with great praise and worship music, verse by verse Bible teaching, and incredible children's programs that teach God's Word.
Office Hours:
Monday thru Friday 9am-4:00pm
About Us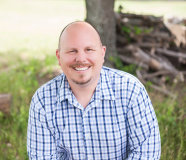 Aaron Scarbrough
Senior Pastor
Pastor Aaron was voted (unanimously) by GRACEVIEW as Senior Pastor on Sunday, March 18, 2012. Pastor Aaron and his wife, Paige, have been married since 1993. He is also the father of 5, yes that's right....5 kiddos; Jordyn, Brett, Hayden, Jake & Luke. Pastor Aaron is currently enrolled at Criswell College.