Grace Point Baptist Church
Who We Are
A growing missional community with Jesus Christ as the head and the Bible as our authority.
The church was born in 1911 and has had a tremendous legacy of community and international missions for over 100 years.
You may be asking, "Is the church still relevant in our post-modern society"? I want to tell you that it is just as relevant today as it has ever been, maybe more so. The church is not simply a building that people come to, in order to meet once a week or for weddings and funerals, rather it is the community of believers in Jesus Christ who gather together to worship him and extend his love to our community.
Grace Point has a well known legacy of being a loving family that displays the light and life of the Gospel message. Our goal is to teach the Bible with relevance and clarity for our generation and that we would continue to be a church that cares for the families and individuals in our community.
We would love to have you visit us, and I know you will be warmly embraced and cared for by all of our members.
He is also head of the body, the church; and He is the beginning, the firstborn from the dead, so that He Himself will come to have first place in everything. Colossians 1:18
---
---
Our Services
Service Times
Sunday
08:30am

-

Early Service

09:15am

-

Bible Study

10:30am

-

Worship
What to Expect
---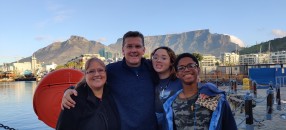 Athol Barnes
Born in Cape Town, South Africa. Athol and his wife Debbie, moved to the USA in 2000, and became naturalized US citizens in 2006. In 2018 he graduated from Midwestern Baptist Theological Seminary with a Masters of Divinity with Highest Honors. Athol and Debbie have two adopted Children who were both born in the USA. He has a passion for missions and sharing the Gospel message with those who have never heard the Good News of Jesus Christ.
---