Bourbonnais, IL
Grace Communinty United Methodist Church
Grace Communinty United Methodist Church
Open hearts, open minds, open doors.
Bourbonnais, IL
Who We Are
Grace is a family of faith, sharing the Light and Love of Jesus Christ with all people.
About Us
Leadership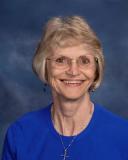 Mary Brady
Mary joined Grace as the presiding elder on July 1st 2012 coming from Champaign First where she served as the associate pastor for a number of years. Mary serves on both the Conference and District Committees on Ordained Ministry. Mary's preaching will challenge you to become a better Christian. Come and find out!