Bethesda, MD
Fourth Presbyterian Church
Fourth Presbyterian Church
"Holding Forth the Word of Life"
Bethesda, MD
Who We Are
"Holding Forth the Word of Life" is the clear and consistent ministry of Fourth Presbyterian Church. To us, this challenge means we are called to live, preach and teach the gospel and to make and equip mature believers to live in this world. Our church offers a home for all who love the Lord Jesus Christ and also for our friends who do not yet believe. We have discovered that the gospel assures that, because Jesus Christ has lived and died in our place, though we are flawed and sinful, we can be accepted and loved. The gospel is the key to all we are and do. We believe that God has sent us to minister to our community, the nation's capital and the metropolitan area.
About Us
Our Services
Leadership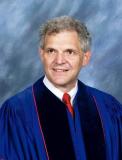 Rob Norris
Rob has been Senior Pastor of Fourth Presbyterian Church since 1984. Born in South Wales, Rob surrendered himself to God on a Saturday evening at the age of fourteen. Then, at the encouragement of his pastor, he began to preach in small churches in Wales. He studied the Bible, and received a thirst from God for Scripture. Rob holds a BA from Kings College, London; and dual doctorates in history and dogmatics from the University of St. Andrews in Scotland. Prior to coming to Fourth, he was Executive Pastor of Program at First Presbyterian Church in Hollywood, CA. Other positions as Assistant Minister at The City Temple, London; Chaplin to the City of London University; and Chaplain to St. Bartholomew's Hospital. He has taught at Washington DC's Reformed Theological Seminary, and in seminaries in Ukraine, Malta, Japan and Sudan. He and his wife, Caren, have five children.