Flagstone Church of Christ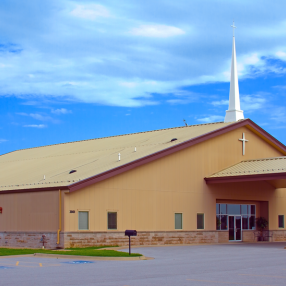 Who We Are
The Flagstone family exists to reach out, connect, and serve.
Because of the grace of Jesus Christ, the Flagstone family exists to reach out, connect, and serve.
After a considerable time of searching, touring facilities, and much prayer, a building was chosen on the southwest side of Bentonville to be the first home of the Flagstone Church of Christ. We have continued to grow in numbers and in connection with each other and with our community. After nearly three years of renting a facility and a few months of using a local school cafeteria, we purchased a building and acreage in May 2013, which is what we now call "home."
---
---
Our Services
Service Times
---
Marshall Brown
Marshall Brown is the lead minister at Flagstone. He spent the bulk of his "growing up" years in Ft. Smith, Arkansas, before attending Harding University. He began working as youth minister at Southside Church of Christ in Rogers, Arkansas, in June 1995, just after graduating with a B.A. in Bible from Harding. He served as youth minister for 11 years and then was asked to begin serving as the associate minister at Southside in July 2006. He joined several families from Southside in planting the Flagstone church in April 2010, and has enjoyed watching God do amazing things through this church family ever since.
---