Evanston, IL
First Presbyterian Church of Evanston
First Presbyterian Church of Evanston
A Presbyterian (PCUSA) church in Evanston, IL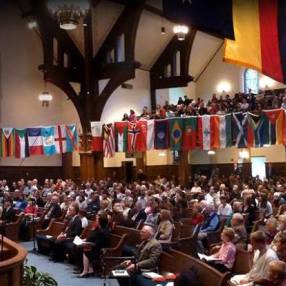 About Us
Vibe
Traditional Liturgy, Creative, Down to Earth, Spirit-filled, Friendly, Inclusive, Historic, Neighborhood-focused, Multigenerational, Young, Young families, Lots of kids, Lively, Hand-clapping
Programs
Community Service, Faith and Work, Children's Ministry, Young Adults, Youth Group, Choir, Missions, Adult Education, Preschool, School, Seniors Ministry
Music
Traditional Hymns, Contemporary, Organ, Hillsong-style, A capella, Praise and Worship
Denomination
Presbyterian (PCUSA)
Size
Medium
Language
English
Founded
1868
Our Services
What are services like?
Our 9:00 a.m. service follows a traditional format (liturgy) but includes contemporary praise songs led by a worship band as well as songs and hymns led by our Chancel choir and accompanied by our organ. On a regular basis, our Bell choir will also participate in our 9:00 worship service. Children are welcome in worship, although parents have options to fit their child's needs. Childcare is available for babies through three years old, but we have additional options for parents for the 9:00 a.m. service. Our youth and older elementary children attend the main service. For younger children, we have an optional Children's Worship in the choir room adjacent to the sanctuary. After opening worship songs and a children's moment in the main sanctuary, we invite younger children to join us to be part of a worship service designed for children 4 to 8 years old. The children will be escorted both ways by children's ministry leaders and will rejoin their families during the last song in the main worship service. In between our services, we have learning and connection opportunities for every age starting at 10:25 a.m after an intermission of fellowship upstairs in Roy Hall. Our 11:15 a.m. service is designed to include varied and creative ways to move the community through worship, while maintaining our focus on the Bible and God's message poured into us. Worship music styles may vary and creative expressions will be explored. Please note, we offer childcare at 11:15 a.m., but do not have a Children's Worship service during the 11:15 a.m. service.
What is the community like?
If you are visiting on a Sunday, you will find an increasingly diverse church family gathering to celebrate God and to forge connections with each other and the world. You'll experience a community that welcomes children and youth and provides opportunities and classes for all ages. Our senior pastor Rev. Ray Hylton is our usual preacher, although on a regular basis we host guest preachers. All our preachers share a love of God's Word and they often preach a sermon series based on a theme working through a book of the Bible.
What if I'm not a Christian?
That's absolutely fine! Wherever you are in your spiritual walk, you are welcome at First Pres Evanston.
Leadership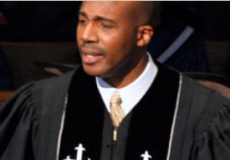 Rev. Dr. Raymond Hylton