Crookston, MN
First Assembly of God Church
First Assembly of God Church
Where Jesus Christ is Lord!
Crookston, MN
Our Services
Leadership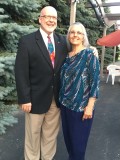 Rev. William "Bill" Humiston
Pastor Bill was born in Chicago, Ilinois, and schooled at North Central Bible College (now North Central University) in Minneapolis, Minnesota, where he received his Bachelor's degree and ministerial credentials in 1984. His ministry experience includes drama evangelism through the White Stone Players, and counseling through Teen Challenge of Western Pennsylvania. Pastor Bill moved to Crookston in November of 1997, after the Great Red River Flood of that year with his wife (Carlotta) and two sons. He was ordained by the Assemblies of God in the year 2000. His two sons have since graduated high school here and left the community to pursue their own dreams. Pastor Bill and Carlotta continue to serve in the Crookston community and are caretaking their younger son's cat, Simba, in the Parsonage.