Fellowship Jonesboro Church
Who We Are
THE GRACE OF JESUS IS BIG ENOUGH TO CHANGE OUR LIVES AND TO CHANGE OUR CITY
Gospel-Centered
"Gospel-centered" keeps the gospel message at the center of all ministry, whether to believers or unbelievers. Belief in the gospel is the means by which we enter God's kingdom; and it is also the means by which we make all progress in the kingdom. The good news of the gospel - that we can be saved from the wrath of God - contains both the power and motivation for salvation, and everything within salvation.
Mission-Focused
We are convinced that God calls us to be an outward-focused mission agency (both locally and globally); and that he intends all believers to be fishers of men. God has called us to specifically equip and inspire our members to win people to Christ. We also desire our church community to be on mission more broadly by way of social justice initiatives and church planting.
Disciple-Making
Because Jesus himself made disciples and commissioned all believers to make disciples, our goal is for every believer to become a disciple-making disciple. We desire to be disciples who actively make disciple-making disciples who know, love and obey Jesus. Courses and tools might help, but discipleship happens via intentional relationships, as well as via Gospel Communities that prioritize this.
Spirit-Empowered
We believe God has called us as a church to be in eager and intelligent pursuit of the presence and power of God's Spirit, as mentioned in the Bible. We believe that all believers should heed the Biblical call to be filled with the Spirit, and remain filled, throughout their lives.
---
---
Our Services
Service Times
Sunday
10:00am

-

We also have an online option at www.fellowshipjonesboro.com

10:00am

-

Join us for our In-Person gathering
What to Expect
---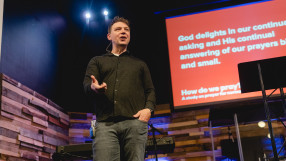 Chad Rogers
Lead Pastor
Chad has been serving as Lead Pastor of Fellowship since 2013. He is married to Jenn and they have 5 kids; Hannah, Landon, Hudson, Zoe, and Haddon.
---