Crossview Alliance Church
Crossview Alliance Church
Who We Are
God saves sinners. We believe that. We also try to remember it. We are a group of people who understand that we are deeply flawed and, because we are deeply flawed, we need the grace of God.
God demonstrated His love to us by sending His Son to die for our sins. We meet together as a way to honor the Lord and to encourage one another in our life of trust. The Lord orchestrated life so that we need one another in order to grow in our life with Him. He has made it a requirement that we love each other as one of the means of loving Him.
Christian & Missionary Alliance Church denomination.
About Us
Our Services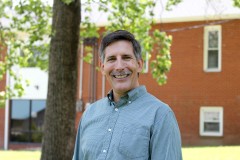 Jeff West
Senior Pastor
Jeff has been the senior pastor at Crossview since September 2017. Previously, Jeff has pastored in Florida and served 24 years as a missionary, along with his wife Sondra, on staff with Campus Crusade for Christ, now called Cru International. They ministered together in French West Africa, France/North Africa, and the United States of America. Jeff and Sondra have four adult children. While Sondra is from Texas, Jeff is originally from Virginia. He graduated from Virginia Tech "Go Hokies" and later earned a Master of Divinity from Columbia International University, in South Carolina. A passion for Christ drives his compassion for people. Jeff's desire is to edify the local church towards life transformation and spiritual multiplication, both locally and globally.
Dear beloved servant of our Lord Jesus Christ, Pastor Jeff West, Greetings in Jesus Name. I'm the executive Pastor of our church ministry and mission coordinator. Having being moved wth the good massage in your articles your website, our church board directed me to contact you with immense respect requesting you to send us some gospel literatures or books if you have that could help us grow spiritually when the COVID19 pandemic is trying to stop the spread of the gospel. Since we don't have modern technologies of sharing the gospel to the believers in our churches, the teaching materials can help us a great deal. Besides, we would be much grateful if you would also allow us participate during your teachings programs in the zoom or any of the livestream channels. Last but not least, we cordially invite you to come and teach our 20 congregations planted here in Tanzania and Kenya when the plague shall stop and the current restrictions to cab it is uplifted. Most of all, we'll be pleased if you'd accept to affiliate with us. We'll be grateful if at all our humble request would be granted. Thank you and be blessed, Brother Salmon.