University City, MO
Family of Love Divine Church - The FOLD
Family of Love Divine Church - The FOLD
Family oriented, caring, relevant, practical; A unique and loving church.
University City, MO
Who We Are
Here at The FOLD we believe that family is important to God and so it is to us. We are committed to loving and serving God and learning how to become a part of happy and healthy families - the way God intended. We endeavor to be a safe place where those who are wounded and/or hurting can come to be healed, delivered, restored, saved, and empowered to serve in the Kingdom of God. We further endeavor to fulfill our mission by sharing the love of Jesus Christ - the Great Physician and teaching and preaching the practical application of the Word of God.

Wherever you may be on your journey, at FAMILY OF LOVE DIVINE CHURCH (The FOLD) you will find a supportive community with a wealth of opportunities for personal and spiritual growth and development. We aspire to strengthen each person's confidence and joy in Jesus Christ - at every point in their life, and encourage personal and spiritual growth through prayer, Bible study and active service in our church and community.

We invite you and your family to come and learn more about our family and the family of God - the body of Christ. Come and learn how you can become all that God has already created you to be - in spite of your past - by taking one day at a time, one step at a time. We look forward to seeing you soon!

The FOLD was founded in July 2008 as a Bible Study in the home of Evangelist Rosemary Jackson. On March 1, 2009 The FOLD held it's first worship service at the Partners in Christ Fellowship Center 6363 Olive Blvd. University City MO 63130 - our current location. The Partners in Christ Fellowship is s collaboration of ministries of which Pastor Jackson is also one of the Founders.
About Us
Our Services
Leadership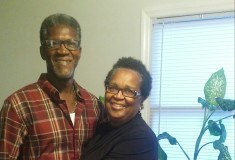 Rosemary Jackson-Moore
Pastor
Our Shepherds are Evangelist Rosemary Jackson-Moore and Elder Nathan Moore. She has an extensive background in Social Services including but not limited to assisting individuals and families identify barriers, address and overcome them whether they are spiritual, emotional, or physical, in order to become self supporting, healed and whole. They both have their own personal testimonies of God's ability to forgive, heal, restore, deliver and save and share them willingly to encourage those they minister to. Please feel free to call her with questions or comments.