Episcopal Church of the Annunciation
Living God's Word - Sharing God's Love - Building God's Kingdom
Lewisville, TX
Who We Are
As part of the Episcopal Diocese of Dallas, Annunciation is a vibrant part of the Episcopal Church of the United States. We are active in local and global outreach and are a church on-the-grow. Once a small mission church serving a handful of Anglicans in Lake Dallas, TX we have grown to a thriving congregation of over 400 with parishioners from Lewisville, Flower Mound, Highland Village, Denton, and beyond.
As a multigenerational congregation, Annunciation provides opportunities for worship, mission, education, and fellowship for all ages. Young families with small children will find ample children's programs including Sunday School, children's choir, nursery during services, children's chapel, summer Bible school, etc.. Episcopal Youth for Christ is a vibrant and active ministry serving youth from 6th grade through high school. EYC meets weeks for prayer, education, and fellowship, as well as monthly Wednesday night Eucharist, annual summer mission projects, and various service projects through the year. Adult christian education is offered weekly on Sundays, and various organizations for adults meet monthly for service, prayer, and fellowship.
About Us
Our Services
Leadership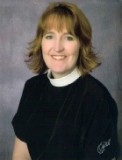 The Rev. Catherine Thompson
Mtr. Catherine began her calling as rector at Annunciation in March 2014.