Douglas Presbyterian Church
Who We Are
Come to Learn; Leave to Serve.
Douglas Presbyterian Church is a PC(USA) congregation. We seek to serve the world as the body of Christ. If you are searching for spiritual growth; if you are seeking a home within a community of love; if you want to find people who, themselves, are still growing in their faith and aspire to help others with theirs, then DPC is the church for you. Come and visit us this Sunday at 10:30.
---
---
Our Services
Service Times
Sunday
09:30am

-

Sunday School

10:30am

-

Worship of the Lord's Day Service.
What to Expect
---
Leadership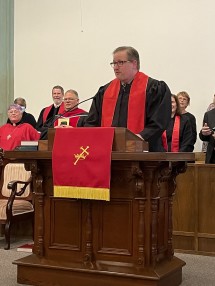 Rob Jones
Minister of Word and Sacrament
Rob is a graduate of Union Seminary. He is a Husband and father, and he is a lifelong learner. Come and listen to Rob teach the gospel of Jesus. Come to see how the gospel still speaks to us today in ways that may surprise you.
---