The Well
Spirit led, Bible believing, Authentic, Jesus, Christian, God,
Derby, KS
Who We Are
Cross Way Church was founded in May of 2006 by Pastor Joplin Emberson and his wife Andrea. We are a non-denominational church with a focus on Jesus and His redemptive work through the cross.

At Cross Way you will be challenged and equipped to embrace God's design for your life. Colossians 1:16 tells us that all things were created by God and for God. This means that every individual in this world, including you, were created for God. Because you were created for God, you will only find purpose and peace in embracing what you were made to do - that is to know God and to make Him known. We are committed to teaching people how to embrace that marvelous plan that God has for each and every person.

The Bible is the ultimate authority on mankind and our relationship with our Creator. It teaches us how to live; what to do, and what not to do. We believe one of the primary functions of the church is to teach the bible; knowing that as people hear it, believe it, and obey it, they will experience real Spiritual power to live the transformed lives that God has enabled His children to live through Christ.

You will find at Cross Way people who still believe in the power of God to save the lost, heal the sick, mend the broken hearted, and set people free from the chains of sin! We are committed to winning the lost and then teaching the church how to be the hands and feet of Christ. The solid biblical teaching found in every Sunday School class; the worship of God in Spirit and in truth; and the passionate Spirit-filled preaching that you will experience at Cross Way are sure to challenge you, encourage you, and equip you, to live out God's divine design for your life.
About Us
Leadership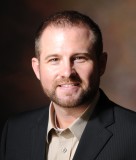 Joplin Emberson
Lead Pastor
Pastor Joplin Emberson, and his wife Andrea, were saved in January of 2000. In one of the darkest hours of his life, God delivered Joplin out of severe drug addiction. God is using this family in a powerful way, as a living example, to show this world that God still delivers; God still saves; and God still loves even the worst of sinners. Nobody is outside the reach of God's magnificant love and mercy. God is always there, and always willing, to reach down and save the man or woman who will honestly cry out to Him for salvation in Jesus name. Joplin and his wife Andrea planted Cross Way Church of Derby, Ks. The first service was held on Mother's Day of 2006. The church has grown continually since that date and many have come to a saving relationship with Jesus Christ as a result of what God is doing in the church. Cross Way Church is a non-denominational ministry with a focus on Jesus Christ and the redemptive work that Christ accomplished through the cross.