Cowboy Church at The Hippodrome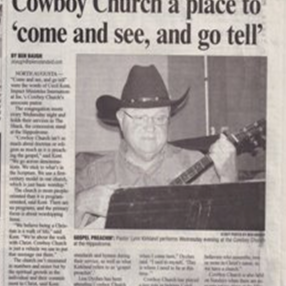 Who We Are
You don't have to be a cowboy to attend - just a cowboy at heart!
JAMMING FOR JESUS" is an open mic time when we welcome singers and musicians to join us in some good old gospel music! Come join us Wednesdays @ 6 PM! We also have regular Sunday morning service @ 10:30. COWBOY CHURCH a casual, come-as-you-are sort of church that offers a mid-week and Sunday morning church service in a relaxed atmosphere. Come enjoy the Circle Riders Band and the Gospel teaching. We would love to have you visit us ~ Wednesday, 7 PM, or Sunday, 10:30 AM ~ @ THE HIPPODROME, 5540 Jefferson Davis Hwy. (US1 near Palmetto Expressway), North Augusta, SC .
---
---
Our Services
Service Times
Wednesday
06:00pm

-

Country & Western Music and Gospel Teaching
What to Expect
---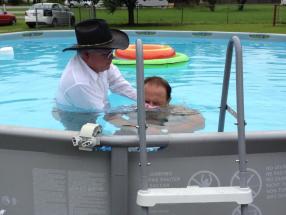 Dr. Lynn Kirkland
Lynn Kirkland is a full-time evangelist ready to preach anywhere. He has preached in fields, on street corners, athletic fields, and college campuses, and even churches. His church, (A New Church Plant) COWBOY CHURCH @ The Hippodrome, currently meets in the gazebo (better known as "The Shack") next to the concession stand at The Hippodrome, 5540 Jefferson Davis Hwy. (US1), North Augusta, SC 29842. Dr. Lynn Kirkland is also certified trainer for Evangelism Explosion and a church planter with The Send Now Network of The North American Mission Board. He has often been called the "hardest working man in evangelism!" Dr. Kirkland would love to come to your church for evangelism training or for an old time revival. He believes John 12:32 to be true: If [Jesus} be lifted up He will draw all men unto him.
---