Commitment Community Church
Who We Are
"A Place Where All Races and Cultures Worship Together As One!"
We are a Church where all races and cultures can worship and serve together as ONE. This TRULY displays and clearly communicates the genuine love of God! Here are some quotes from the Commitment Family:
"I'm restored…" "I'm not the same man…" "I'm learning so much…"
"I'm different…" "My entire family has been impacted…"
"I'm learning how to be a father…" "I'm so excited…"
"My children are learning…" "We have all grown so much…"
"I've never wanted to join a church until now…" "This is my family…"
---
---
Our Services
Service Times
Sunday
09:00am

-

Multicultural, Engaging with God and His people, Relevant Teaching, Nursery , and Youth Classes - 1st & 3rd

11:00am

-

Multicultural, Engaging with God and His people, Relevant Teaching, Nursery , and Youth Classes - 1st & 3rd
What to Expect
---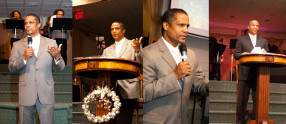 Cedrick Brown
Cedrick Brown was born and raised the last of eight children in the city of Compton, California which some have labeled the "gang capitol of the World" and where he began to excel in the game of football. Football became a way-out of Compton by landing him at Washington State University (1982-86). At "WAZZU", Cedrick continued to stand out as a four-year letterman and three-year-starter at defensive back while majoring in Hotel & Restaurant Management. Frustrated that he didn't get drafted, he received a call early the next morning from the Philadelphia Eagles who then signed him as a free-agent under the legendary "Buddy" Ryan (1986-1988). Cedrick's business career began in hotel and restaurant management with both the Hyatt and Marriott. He went on to spend fifteen years in sales and executive sales management with Alcoa Home Exteriors (A division of Alcoa Inc); he has since retired and dedicates his "full-time" to ministry. Cedrick is a sought after public speaker for churches, family and outreach events, men's groups, youth groups, public schools, businessmen's events, and more; He is the author of "Influencing Your World"; "The Racial and Cultural Divide"; "Act Like A Man"; and "My Daily Business"; He also has a Bachelors from Philadelphia Biblical University, his Master's and Doctorate Degrees in Theology from Slidell Baptist Seminary. He is the Founding Pastor of Commitment Community Church located in Lindenwold—one of the most racially and culturally diverse churches in the state of New Jersey and where he has served since 1996. Cedrick has been married to his beautiful wife Lisa for over twenty-five years and they have three wonderful children together: one son (Joshua) and two daughters (Jessica and Jaime).
---