Commerce United Methodist Church
Commerce United Methodist Church
Who We Are
We are a "Come as you are" Christ-Based Church here to share God's love with all who seek his grace. Located in Commerce, Michigan, we have members located throughout the Huron Valley Lakes Area.
Whether you are new in town, or just "new to us", we welcome you to come check us out. We offer plenty of fellowship and engagement opportunities for people seeking faith-based friendships and connections in Christ.
About Us
Our Services
Leadership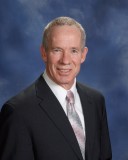 Deane Wyllys
Pastor
Pastor Deane Wyllys has served the Commerce United Methodist Church since 2004, having begun his ministry in the United Methodist Church in 1983. He is a graduate of Asbury College (now Asbury University), with a bachelors degree in Christian Education; Asbury Theological Seminary with a Master of Divinity; and Ashland Theological Seminary, with a Doctorate of Ministry. Deane met his wife Nancy at Camp Michigamme, and they were married in the chapel there. Returning to camp each summer to work and play with Junior High students is a highlight of their year. They are the parents of three adult sons, all living out of state, making it difficult to see grandchildren as often as they would like. Since his arrival in Commerce the church has seen an increase in the spiritual growth and ministry in a variety of areas. The church is now blessed with a Stephen Ministry, a United Methodist Men's unit, weekly Bible Study, a growing Emmaus community, and other areas as well. Deane is dedicated to seeing the church grow both numerically and spiritually. His hobbies include backpacking, biking, kayaking, and running. But above all else is his Lord and Savior, Jesus Christ.