Norman, OK
Church on Fire, Norman Oklahoma
Church on Fire, Norman Oklahoma
nondenomination, spirit filled, evangelical, fire, church
Norman, OK
Who We Are
A casual contemporary Christian church always led by the Holy Spirit. David and Tamara McGrew are devoted and loving pastors that care about you and your spiritual well being. They are so loving and nonjudgmental. Each person regardless of circumstances or situations is just as valuable and important as anyone else, no respecter of persons. Come and experience the healings and miracles that are manifested in our services by our Lord Jesus. One service will be life changing and you will never be the same. Experience the supernatural transformations by the Holy Spirit. We are a Christian church that is built on the foundation of the uncompromised Word of God.
About Us
Leadership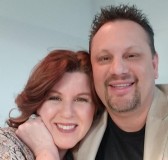 David & Tamara McGrew
Pastors
Pastors David and Tamara McGrew founded Church on Fire in 2012. A place filled with the Holy Spirit where you are able to be yourself and open up to the Lord. Supernatural healings and transformations taking place every day. You will leave different than you came. You will be changed. No judgment, only love and acceptance no matter where you are in your walk with the Lord.
I love the atmosphere of the Holy Spirit in every service. Pastor David and Tamara are Godly people and I love them both. I pray one day soon I will be able to sit under his ministry once again.

I've known Pastor David & Tamara McGrew and their family over 15 years. They are trully amazing people of God and I've seen how God has blessed their family. They have also helped many people who were in trouble and difficulties and I am one of those. I've been blessed after I moved up to this country and meeting them is one of the biggest blessings I've ever had.

ADV DHS Cara this is Heather I lost your phone number and they changed my phone number to 405-543-3250 I wanted to know how everybody was doing I have been praying for everyone who is sick and I'm hoping to get to church maybe this weekend and I can meet you were supposed to move tomorrow to the downstairs but we don't have any help from anyone can move us is it downstairs so please pray for us because I can't look my back and my roommate has a prosthetic leg that doesn't fit and only has use of one arm