Who We Are
No matter who you are or where you are on life's journey, YOU are welcome here!
Authentic, honest worship for all. We are an Open and Affirming church family that is striving to "Be the church" by protecting the environment, caring for the poor, forgiving often, rejecting racism, fighting for the powerless, sharing earthly and spiritual resources, embracing diversity, loving God, enjoying this life!
---
---
Our Services
Service Times
Sunday
09:30am

-

Wonderful music, engaging sermons, ALL are welcome here!
Saturday
05:00pm

-

Spirit of the Rocks worship service now on ZOOM!
What to Expect
---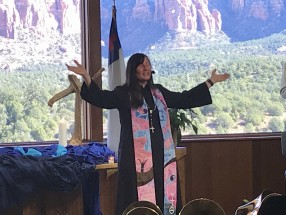 Rev. Dr. Cindy Parker
Senior Pastor
Pastor Cindy is an energetic, enthusiastic, child of God! She is a 2017 graduate of Chicago Theological Seminary with a Doctor of Ministry in Preaching, and through her love of story-telling she brings the gospel alive in new ways! When you join us for worship, either on Facebook LIVE or in person, be ready for a surprise or two or three.
---
When Pastor Cindy begins worship, she says, "No matter who you are or where you are on life's journey", the congregation responds with "YOU ARE WELCOME HERE!" And, it is so much more than a welcome, it is an EXTRAVAGANT welcome. Those who visit the church ALWAYS remark that they have never been welcomed with such genuine enthusiasm. You will be moved by "THE WINDOW" at the front of the sanctuary that frames the majestic red sandstone rock pinnacles of Sedona-visual evidence of the hand of God, Our Creator ! Pastor Cindy delivers an enthusiastic, thought provoking, biblically-inspired and always a message for living in today's world. See you in church!