Church of the Holy Spirit
Church of the Holy Spirit
Who We Are
We are a medium sized parish located about one mile north from the Offutt AFB main gate and just up the road from the Bellevue Post Office.
We see our ministry as one of deepening relationships with God and one another through our worship, our service, and our fellowship. We offer youth and adults alike a wide range of opportunities to do so; opportunities that not only strengthen those in our community but that also invite and welcome others to experience the grace we have come to know through Jesus Christ.
About Us
Our Services
Leadership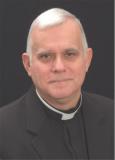 Thomas Jones
Fr. Tom retired from the Air Force in 2003 before heading off to seminary. He has been with Church of the Holy Spirit since November of 2008. For more information, please visit our website.