Redondo Beach, CA
Christ Episcopal Church
Christ Episcopal Church
Open to God's Grace, we come together to give thanks and to serve.
Redondo Beach, CA
Who We Are
Welcome to Christ Episcopal Church!
We are glad that you are visiting our site. If you are looking for a place to call your spiritual home, we invite you to join us. We worship in a sanctuary built in 1893 that is filled with the prayers, hopes, and joys of several generations.
We are here because we found that in this gathering of people who are very different from one another, God's love makes a place for us all. Come experience this welcoming presence on your visit!
God's Peace in the Welcoming,
Bob+
Vision and Mission Of Christ Church
To bring people to Jesus Christ by nurturing a Christian community that inspires spiritual growth through our Christain faith. We fulfill our mission by:
*Respecting the dignity of every human being
*Praying and worshipping
*Maintaining a balance among scripture, tradition, and reason
*Fostering an inclusive community
*Welcoming newcomers into our community
*Participating in individual and cooperative stewardship
*Providing a church that serves as a beacon of our faith
About Us
Our Services
Leadership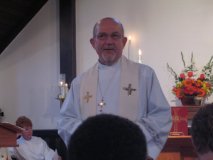 Robert Cornner
Father Bob served 31 years as a public educator as well as serving in various churches in the Diocese of Los Angeles.