Portola Valley, CA
Christ Church Portola Valley and Woodside
Christ Church Portola Valley and Woodside
Christ Church - home to great liturgy and music with vibrant children's programs.
Portola Valley, CA
Who We Are
As a parish of The Episcopal Church, our liturgy is based upon the Book of Common Prayer. The Holy Eucharist, or Holy Communion, is at the heart of our worship, and is ordinarily celebrated twice every Sunday morning. At each celebration we listen to readings from the Bible, hear a sermon proclaimed, and offer and receive the bread and wine. At the Sung Eucharist (usually at 10 a.m.), hymns and service music are sung by all, and the choir leads our praise and thanksgiving with anthems and psalms.
Children are an integral part of our worship and are welcome at every service. Childcare and Sunday Church School are available for children during the 10 o'clock service.
Other worship offerings at Christ Church include occasional Evensongs, seasonal services, and pastoral offices such as weddings and funerals.
About Us
Leadership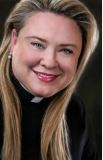 Beth Phillips
Rector
The Reverend Beth Phillips is originally from Kansas City, Missouri, where she grew up on a horse farm. Most of her adult life has been spent working in Aspen, Colorado. Both of Beth's parents are attorneys, so it is no surprise that her first vocation was pursing social justice as a civil rights attorney. A cradle Episcopalian, Beth grew up in a large Episcopal parish in Missouri and was senior warden of a small congregation in Colorado for many years. After contemplating a call, since the moment in law school in 1992 that she learned women could be ordained in the Episcopal Church, Beth finally went to Berkeley Divinity School at Yale and graduated in 2013. She participated in a scholar exchange at the University of Cambridge in England. Her internship was at Trinity Wall Street in New York City. For the past two years, Beth has served as Assistant Priest at Christ Church, Warwick, NY.