Portland, OR
Christ Church: Portland
Christ Church: Portland
A new open, active & inclusive Christ-centered community in Portland.
Portland, OR
Leadership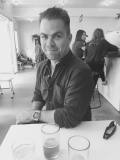 Adam Phillips
founding pastor
Adam Phillips started Christ Church: Portland with the abiding conviction that all people are included in all the things that Jesus was about. He has been at the forefront of holistic faith-rooted organizing around poverty, working with organizations like The ONE Campaign, World Vision & Bread for the World. A graduate of The Ohio State University and North Park Theological Seminary, Adam drew national attention when he and Christ Church were kicked out of their previous denomination around LGBTQ inclusion. He and his wife Sarah are raising a Pomeranian puppy named Morrissey.
I love that Christ Church does what it says, and lives out the faith. There is so much more than just Sundays at Christ Church - from community events to the activities that Pastor Adam is involved in. This church is not just worshiping but doing.