Celebration Community Church
Who We Are
A Fun Place to Get Serious About God
At Celebration, we just try to keep the main thing the main thing. And what is that? Jesus said it is loving the Lord our God with all our heart, soul, and mind, and strength and our neighbor as ourselves. There is nothing new or innovative about this. It is as old as the gospel.
We have never tried to reinvent any wheels regarding how a church is called to love God and neighbor. Whatever terms one might use, every Bible-teaching church loves in the same ways: worship, witness, community, discipleship, and service. Everything we do should be an expression of these core commitments.
Of course, we approach our ministry with our own unique values and flavor. These include: an urban and global heart, diversity and ethnicity, honesty and informality, justice and mercy, depth and reflection, fun and humor.
Our mission statement is: we exist to create a life-giving, life-changing, missional, mentoring community for people in need of grace and truth.
---
---
Our Services
Service Times
Sunday
09:00am

-

Service

10:45am

-

Both services share the same music, speaker, message and warmth. Celebration Community Church is a fun place to get serious about God... not stuffy or formal. Come as you are, enjoy a cup of coffee, and get serious about your relationship with God.
What to Expect
---
Leadership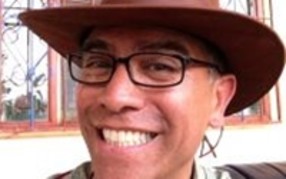 Steve Garcia
Steve is our Senior Pastor. He was part of the launch team that caught a vision for a thriving Christ-centered church in the urban east Denver. In 1998, they began and the rest is history. An old youth guy at heart, Steve feels Celebration Community Church is just a youth group for grown-ups. He has a counseling degree from Grace Seminary and Master of Divinity degree from Denver Seminary. Steve loves guitar playing, biblical languages, smoking ribs in his back yard, and his wife, Bonnie, three sons, and two doggies.
---