St. Mary's Cathedral
A Catholic church in Grand Island, NE
Who We Are
Welcome to St. Mary's Cathedral, the Mother Church of the Roman Catholic Diocese of Grand Island and the seat of its Bishop. Our pastoral, educational, cultural, and community outreach programs serve the needs of a diverse town, nation and world. We invite you to become part of the spiritual renewal that awaits all who walk through our doors.
About Us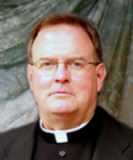 Rev. Richard Piontkowski, Jr. J.C.D.
Pastor
Rector and Pastor since 2005. Permanent Diaconate Director. Chaplain in the US Army Reserve. Consulting in Canon Law.