Carterville United Methodist Church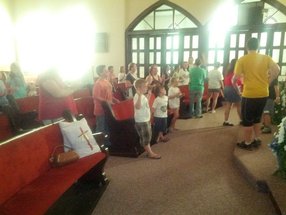 Who We Are
Reaching people and changing lives.
In this life we are extremely busy and that is ok, until a storm comes, (illness, trials, storms, earth shaking troubles). It will happen, Jesus warned us (John 16:33). It is not because we have done anything wrong; it is because we live in a fallen world (Genesis 1&2).
Jesus wants us to grow deeper into His Grace and be prepared for these storms that come our way. God has given us a lot of tools to help us with that. We believe the Bible is the Inspired Word of God. We believe Jesus has called His Church to be a light house to this world and rise up disciples in Christ.
---
---