Carolina Foothills Christian Fellowship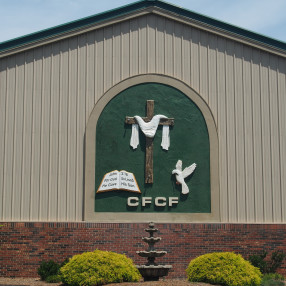 Who We Are
Where Christ Is Building His Church - One Relationship At a Time
Carolina Foothills Christian Fellowship is a Christ centered Non-denominational church in Landrum South Carolina.
---
---
Our Services
Service Times
---
---
I have been in this church for more than 13 years, I have grown spiritually thanks to God and to the spiritual wisdom of each member, especially the spiritual guidance of my pastor and my mentor in this church. I have witnessed miracles happening and the anointing of God in many of our brothers and sisters. This is my spiritual gym. I encourage everyone to not just attend church and wait to get your way, but to grow and see God's way in you as I have seen. Praise God Almighty for CAROLINA FOOTHILLS CHRISTIAN FELLOWSHIP.

Full gospel, loving, United, people reverence God and they make you feel welcomed. A place where you participate not just spectate. Anyone who has had a "negative" comment should meet with pastor personally. Oh that's the other great experience at CFCF pastor is humble and approachable. The above comment from "lisa" that person does not exist in our church. I'm saddened by her comments.

I think some Pastor need to go back to Bible School to learn had to be a Pastor/Preacher for the Lord and not Worshjp the Pastor at two different churches? What do you call a church that you wanted to visit but couldn't and it was this church because a Pastor Gossip about me? I call this church a judgement church that worship their Pastor instead of the Lord. I know nobody will answer me back because they know I am telling the truth. Here is another question to: Why are folks supposed to go to church? Worship the Lord or Worship the Pastor.

To me a true Pastor of a Church would not denial a person into worship the Lord so I will never ever step foot into this Church because him and my former Pastor gossip about me so this Church will half to be admitted on my professional help. I would not recommend a Church that worship the Pastor instead of the Lord. I thought you suppose to go to church to worship the Lord not the Pastor's. The Pastor of this just listen to one side and that was another Pastor and I know Pastor can lie to. I hate to say this they might be some good folks in their that think they are worship the Lord but they really worship the Pastor. They don't get a good mark from me.
Create an account or sign in to save your experience.
Go here? Tell us why you love Carolina Foothills Christian Fellowship. Visited? Tell us what a newcomer can expect.