Brooksville Turning Point Church of the Nazarene
Brooksville Turning Point Church of the Nazarene
Who We Are
We are a Traditional Church with a "Joyous Message"!
About Us
Leadership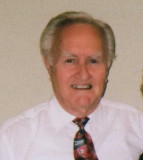 Rev. Kenneth McLellan
Pastor
Rev. McLellan began preaching on the streets of Toronto Canada at the age of 17. He has pastored several churches and served as President of To The World With Love, Inc. a mission to Haiti. Working with local indigenous pastors teaching pastor seminars and building church buildings, schools and orphanage.