Arabic Baptist Church- Atlanta
Who We Are
The Arabic Baptist Church; Atlanta GA
The members of this Arabic Church along with our regular guests; together joyfully worship our savior Jesus Christ. The Arabic church reaches out to the Arabic Speakers in the community with the message of salvation. The music program, the message and the fellowship hour are dynamic and exciting. We love for you to join us every Sunday as we can together worship our Lord.
The message is entirly in Arabic, there is direct ranslation into English.
The Children are welcome. We have a special class for them to attend and enjoy learning about the savior and the Bible.
Please Visit WWW.JESUS-SAVES.ORG or on Face Book at https://www.facebook.com/ArabicChurchAtlanta
---
---
Our Services
Service Times
Sunday
05:00pm

-

Service is in Arabic then a dynamic fellowship, coffee and hot tea with Arabic Sweets
What to Expect
---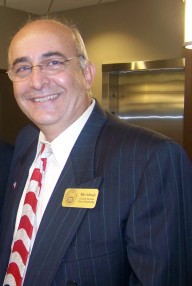 Nicolas Murr and Elias Awabdy Mike Sabbagh
Nicolas Murr is the Senior Pastor Rev. Awabdy is the lead and Senior Pastor and together with Rev. Murr the Church continues to grow by reaching out to the metro Atlanta Ga. and throughout the community Mike Sabbagh and other leaders in Church welcome you and love to see your feedback. Mike is an elder f the Church. and heavily involved on a daily basis. Pastor Nicolas Murr, Pastor Elias Awabdy and Brother (Elder) Talal Jaston are responsible for the church activities, services, outreach, programs, revivals and events.
---
I need your help as Saweed Mosque has asked me to come and share about Genesis6: 1-4. I have been sharing Christ with two female ESL students and one of the husbands has been asking lots of questions via chat and email. He wants me to meet him after prayer on Friday. I am uncomfortable going alone and told them I would bring a man with me that spoke Arabic. Often it is the definitions that confuse them. Like Son. I told them it can mean blood or adopted or term of endearment. JC was both Son of God and Son of man but Joseph was his not his birth father but the man who raised him as his own as the Angel told him to do. When asked about circumcising I told them Jesus was, as he was from a Jewish family that adhered to that rite. I told them it is a matter of choice not faith we circumcise but most parents do. I attend Briarlake Baptist church and recently learned of your church. God Bless! Cindy Thigpen 205-218-9429

I am thrilled to learn you are here. I teach Esl to refugees and would love to send you names of the Muslims for outreach if you desire.

I am thrilled to learn you are here. I teach Esl to refugees and would love to send you names of the Muslims for outreach if you desire.

The Arabic Baptist Church is a local low key and very friendly family oriented church preaching Christ'w word to every one. Because we speak Arabic and where as the service is in Arabic, many of the newly non believers refugees and first generation Arabic Speakers and those who learned to speak Arabic benefit greatly from this church. I invite to become a supporting member of this Church. Mike Sabbagh Member
Create an account or sign in to save your experience.
Go here? Tell us why you love Arabic Baptist Church- Atlanta. Visited? Tell us what a newcomer can expect.