Roanoke, VA
Bread Of Heaven Roanoke VA
Bread Of Heaven Roanoke VA
Best Kept Secret in SE Roanoke VA! On the corner of 8th St & Tazewell Ave SE
Roanoke, VA
Who We Are
Bread of Heaven Ministries is an interdenominational fellowship working freely within the body of Christ. We enjoy freedom of worship and praise in the Holy Spirit, with the ultimate purpose of magnifying the name of Jesus. The directives of Bread of Heaven Ministries are to declare that Jesus Christ is Lord and to proclaim the gospel of the Kingdom of God to all the world. The vision of Bread of Heaven Ministries is to establish men and women of character and integrity and to emanate an atmosphere of worship and love, releasing the presence of God and the work of the Holy Spirit. This is done through the teaching of God's Word, through the power of the Holy Spirit, and through the person of Jesus Christ.
Our Services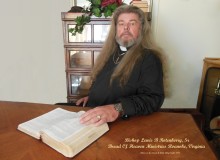 Bishop Lewis B Rotenberry, Sr
Owner & Overseer
Bishop Lewis Rotenberry, Sr Owner, Founder, and Senior Pastor Bread Of Heaven Roanoke VA USA After completing ministerial studies at SouthEastern and Rhema Bible College, Rev Rotenberry served on the Missions Field. In 1995 he went to Ukraine, USSR, and ministered to the hopeless residents that survived the Chernobyl accident. GOD called Bishop into full-time ministry, to reach out to a lost and dying world and show them the love of JESUS. Upon returning home, Rev Rotenberry founded BREAD OF HEAVEN MINISTRIES in Roanoke, Virginia, USA.
I need to get a hold of the person that is moving the stuff out of this church please tell him to call me I think it has cancer it's very important I need to speak with him I have felt a ring that he needs back desperately I didn't mean to keep it but I need to explain stuff to it are they still the ring it just had to be in my stuff I was there last Sunday and I did explain lot of stuff and please tell him to call me my name is Debra riffe I need him to call me I need to come and get this ring but I personally need to call talk to him about the situation around this I don't need the rain I don't want to keep the ring but there's a lot of things but behind this ring I didn't steal the ring not intentionally I kept the ring but the person I was told to keep the ring and I need him to call me talk to me at 540 985-9609 thank you please tell me leave a message I'll get right back with him and I need to know his number if you have it at all he has gray hair the guy that was moving the stuff lungs hair