Kannapolis, NC
Bethpage Presbyterian Church
Bethpage Presbyterian Church
Traditional worship, real, relevant, contemporary, service-oriented, spirit
Kannapolis, NC
Who We Are
BPC has a long-established presence in the Kannapolis community, but we don't spend our time looking back. Instead, we seek to know God's will for our church's life in today's world; ways to do God's work among those who need us. We are a praying congregation, looking for ways to reach out to our community, both nearby and in a wider sense. We encourage our members to find God's call to service in their own world, through worship at church and home, missions at work, play and family, through learning and study; growing and being transformed by God's Spirit. We believe in the fellowship of all believers, in finding strength for our daily lives through contact and interaction in a fellowship of faith.
Over the 125 years since our church was founded, hundreds of members of our community have found a stronger relationship with God through involvement in the ministries of Bethpage Presbyterian Church. Perhaps we can be a part of your spiritual journey. We are large enough to offer specialized programs for every age and yet small enough to offer a spirit of love and fellowship that will become your "second family." Members of our congregation come from many places with many different vocational backgrounds, but we all come with the same need: to honor, worship, and follow the Lord calling in our lives.
We maintain a Sunday School program for all ages, as we take seriously our Presbyterian tradition of learning and study.
BPC is in partnership with a growing Latino ministry in Cristo Salvador. That congregation uses our facilities for their ministry, and often joins together with the BPC congregation to celebrate and worship God. We always enjoy these services, and the chance to experience Christian fellowship with a Spanish flavor.
Bethpage also partners with a local elementary school, Fred L. Wilson. Throughout the year we collect school supplies, teacher supplies, school uniforms for students in need, and at Christmas we wrap and give special Christmas gifts to many of the students who otherwise might have a very poor Christmas indeed. Recently, we built and installed cubbies in several of the younger students' classrooms, to allow them a personal space to store their belongings.
Our congregation supports our college students with "Care Packages" during exam times, and sends cards of encouragement to them as they navigate the sometimes tricky world of higher education. We want them to always feel the love and support of their church family at their backs, cheering them on.
When we have members in the armed services, we prepare and send "Care Packages" to them, as well. Far from home and family, we know that the most frightening thing they might face is the feeling of being alone.
We invite you to join us! You may e-mail the church directly at [email protected] with any questions or for more information. Also, see our Facebook page at:
https://www.facebook.com/BethpageChurch
About Us
Our Services
Leadership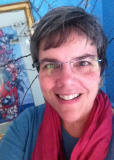 Reverend Ellen Campbell Gardner
Pastor Ellen has been a part of the work and worship of BPC since 2012. She is a dynamic preacher and a tireless worker for God.