Berry United Methodist Church
Berry United Methodist Church
Compassionate, joyful community living out God's love through justice
Chicago, IL
Who We Are
Founded in 1909 as the Berry Memorial Methodist episcopal Church, Berry United Methodist Church has been serving the Lincoln Square community for over 100 years.
Currently, we offer a vibrant worship experience for all people. As a reconciling congregation within the United Methodist Church, Berry is welcoming and affirming of all people regardless of your ethnicity, gender, social status, or sexual identity. We believe that you are beloved by God and you are welcome in our community. Berry also offers a growing family and children's ministry which includes Godly Play, a program on Sunday morning during the school year where Montessori meets Sunday School
Berry Church currently shares our building with our sister church, African Community United Methodist Church, which gathers at 2:30 on Sunday afternoons. African Community Church was founded primarily to fill the spiritual needs of the African immigrant and to be an advocate for that community in matters of social concern, such as immigration and naturalization.
In addition, our building houses a Refugee Women's art program sponsored by Refugee One and Loom – Catholic Charities, and the Net and Paddle Club
Our Mission
Berry is an honest and compassionate community of spiritual seekers, inclusive of all. Through Christ's example we are joyfully and intentionally living out God's love while seeking creative ways to provide healing and wholeness to our world.
About Us
Leadership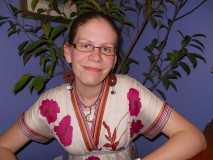 Rev. Rachel Birkhahn-Rommelfanger
Lead Pastor
Rachel Birkhahn-Rommelfanger is a lifelong Reconciling United Methodist and Chicago Native. For nine years Rachel was in DC for education in the classroom and in the world. She received an undergraduate degree from American University in History and Sociology and attended seminary at Wesley Theological Seminary. An activist at heart she comes to Berry after years working in secular and faith based non-profits on outreach, advocacy, education and fundraising campaigns. She is also passionate about connecting young adults with spirituality and community; and working for racial justice in Chicago and the world. She is currently a member of the Connectional Table for the United Methodist Church and the National Council of Churches Intergenerational Thinktank. Rachel is grateful to be back home in Chicago after years away, and blessed to be living and serving in a community only one mile from where she grew up.